PARADE Cameroon: The Elective General Assembly of the displaced GIC Green Moves.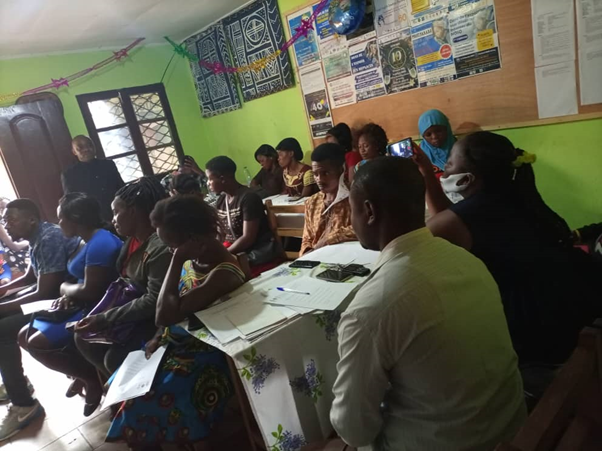 The Cameroon Debate Association (CDA) project on the empowerment of the displaced in Dschang and surrounding (PARADE) is financed by the programme PISCCA for a second time out of 550 associations that applied for funding. Basically, it is a while now that CDA has taken at heart the challenges of the internally displaced persons in Dschang, and on the process has received relentless support from the French Embassy in Cameroon.
Following the activities spelled out in the project PARADE II, which includes creating a Common Initiative group by name Green Moves constituted of displaced in Dschang; an elective general assembly held on Friday, 08 January 2021, in presence of the Senior Divisional Officer, Divisional officer, delegate of agriculture, the PARADE II team and twenty six (25) displaced at the Cameroon Debate Association Headquarters. Hence, during this gathering, the project team ceased the opportunity to deepen the understanding of the invitees on the Cameroon Debate Association, the project PARADE, the association Parades, and more essentially, the common initiative group, Green Moves. In the process, the statutes and rules and regulations of the GIC were unveiled and discussed and agreed upon by all.
Election, afterwards, took place following the criteria indicated in the statutes of the GIC and the supervision of the authority, notably the senior divisional officer, PARADE II team and divisional officer. Under a serene atmosphere, the first bureau of the common initiative group, Green Moves, was elected. Thus, Green Moves will be under the leadership of Mr. Enow Sylvanus for the next three (3) years mandate as stipulated in the statutes.
Therefore, with the incoming bureau, the ground is set to commence with PARADE agriculture, which entails cultivating beans and corn on a piece of land of five (5) hectares. It is worth mentioning this first agricultural project is fully funded by the French Embassy in Cameroon. In fact, it will constitute a bedrock for the displaced empowerment in Dschang, especially as the creation of the GIC is coupled with Mburuku (an online crowd funding platform for displaced projects).
written by:
Tsague Dongfack Willy Endelson