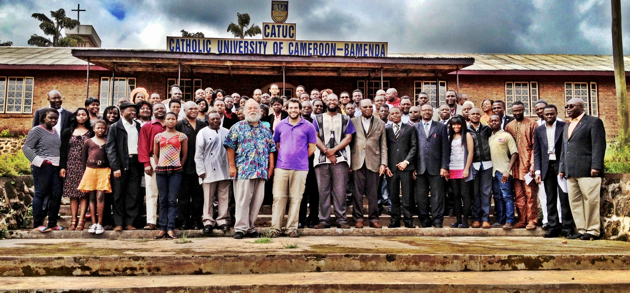 Cameroon Debate Association (CDA)
Founded in 2009 in Dschang after a national forum, the Cameroon Debate Association (CDA) is a federation of stakeholders including civil society organizations, academic institutions, schools and clubs whose purpose is to promote local and national initiatives to disseminate the culture of debate, advocacy and open discussion as a tool for education, information, dialogue and development of the spirit of openness and democracy.
Since its declaration in 2011 to the Cameroonian administrative authorities, CDA has trained more than 5,000 young people in the field of leadership and democratic speech.
The association's mission is to provide professionals and young people of both sexes the opportunity to acquire the knowledge and methods necessary to develop their personality and facilitate their social integration, and to offer them opportunities to lead, at the local level individual or collective actions aimed at the well-being of their communities.
To this end, CDA creates and supervises Debate, Speech & Leadership (CEDL) Clubs in university environments and Reading, Speech and Debate Clubs (LPD) in schools and primary schools, thus leading actions in favor of personal development and citizenship in Cameroon. It promotes and co-ordinates local, regional and national competitions for debate, public speaking and educational games, and trains trainers, debaters, speakers, teachers, referees (judges) and moderators of debate.
CDA has trained several debate and speech laureates from continental and global competitions in French and English (Zimbabwe 2011, Berlin 2013, Paris-Sorbonne 2014, Paris-Sorbonne 2019).
From 2013 to 2019, the association received scholarships from Senghor University in Alexandria (Egypt) where three of its members were trained in development management. In 2019, one of its members becomes an Erasmus Scholar for the project "The Speaking House". In 2015, CDA received the Wallonia-Brussels Federation Prize for the Africa Gawlo project, an innovative transmedia project for the promotion of books and reading practices in sub-Saharan Africa. In 2016, CDA receives the Ashoka Foundation award for the 100 most innovative social projects on the planet thanks to the Africa Gawlo project.
CDA has spurred the creation of elocutionary societies in Africa, Europe and Asia. Several countries in North Africa and Sub-Saharan Africa benefit from the expertise of its members. Hence the creation of the Oratory Society of Senghor (SAOS) in September 2013 by its founder, Marius Yannick Bi Binyou Homb, and the International Network for the Promotion of the Arts of Speech in ACP (RIPAO/INPAS) the same year headquartered in Alexandria (Egypt).
The association currently has a network of nearly 1250 members and 50 volunteer administrators. Its management system is transparent, inclusive and alternating. The Executive Board consists of six members who have a two-year term renewable once. The association hires full-time 5 young people.
In 2019, CDA begins its mission of local development thanks to the project PARADE (Project of Empowerment of Anglophone Refugees in the Municipality of Dschang and Neighborhood). This project allows CDA to position itself as an active, dynamic and reliable civil society organization in Cameroon working for local development, education, peace and dialogue.
CDA is at the heart of the creation of elocutionary societies in Central Africa and the Great Lakes. One of the most imminent projects is the establishment of the African Council of Oratory Games (AGCO) for Central Africa and the Great Lakes, with headquarters in Yaounde.