PISCCA 2020: The French Embassy in Cameroon building skills of Civil Societies organizations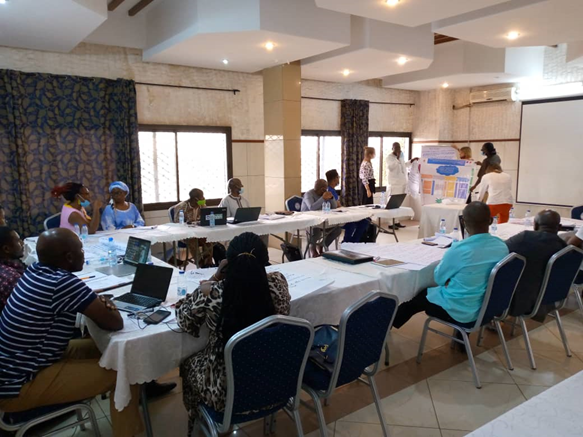 It is years today that the French Embassy in Cameroon by her programme "Projets Innovants des Sociétés Civiles et Coalitions d'Acteurs (PISCCA)", launches calls for projects for registered organisations in Cameroon. Usually, the call targets projects that promote local sustainable development; innovative initiatives; the empowerment of civil societies, and projects aiming at building networks and synergy amongst civil society leaders, or, that favour the advancement of new public debate actors and increase their credibility as development and advocacy leaders. In these last two years, the Cameroon Debate Association submissions, based on the empowerment of the internal displaced in Dschang and their surroundings, have met the interest of the selection committee, and thus, have been granted funding for the implementation of the proposed projects (PARADE I and II). Upon the selection, the French Embassy in Cameroon always reinforces the skills of members of selected organisations so much that they properly manage selected projects.
For 2020 edition, ten (10) projects were selected out of the 550 projects submitted and the capacity building workshop slated for 4th to the 7th October 2019 at the French Embassy in Cameroon. The Cameroon Debate Association (CDA) project happens to be among, with nine (9) other associations, notably, SEKAKOH, AMMCO, MAC, CHRDA, PIDEJECA, NEWSETA, AJED MR, AFROLEADERSHIP and Change Communications. These organisations generated their selected projects from three domains: Preservation of biodiversity (SEKAKOH, AMMCO and MAC); the Promotion of Peace (CHRDA, Change Communications and CDA); and Participation to citizenship and decentralization process (PIDEJECA, NEWSETA, AJED MR, AFROLEADERSHIP).
This 7th day of October 2020 welcomes the third day of the training at the French Embassy in Cameroon with twenty (20) participants (two representatives as per selected organisation). It is worth indicating that the purpose of this workshop is to update the skills of the participants on the management of a project cycle (elaboration, follow-up, and evaluation), the expectations of the SCAC as per financial and technical follow-up and communication, and the communication on the project. It comprises three modules, notably, the project cycle: elaborate, follow-up and evaluate a project by Elena and Ariane; Administrative and financial procedures by Elena; Valorise and communicate on a project by Margot. Besides, the Cameroon Debate Association is represented by the Project manager (Binyou Bi-Homb Marius Yannick) and the accountant (Tsopmo Zandzi Belgerelle).
TSAGUE Willy Endelson
Community manager PARADE